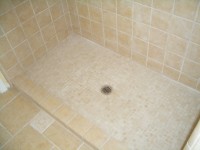 With options ranging from tile flooring to tile countertops and backsplashes, RS Handyman has the tile contractors you can trust for full-service tile installs and top-quality workmanship. Emphasizing quality craftsmanship and beautiful results, I'm here to bring you the complete, correct tile installation you need for long-lasting performance and gorgeous appearance. Don't settle for a tile contractor that only does the job halfway, leaving you with tile that will soon crumble and break. RS Handyman is here to bring you the very best in tile installs and repairs in Sacramento. I'm ready to ensure your tile installation is done right the first time!
RS Handyman is available for:
Tile Removal
Tile Install
Grouting
Tile Sealing
Tile Refinishing
And don't forget, RS Handyman also offers tile repair services. If you have crumbling grout or broken tiles, I'm the tile installer you can trust to get your floor or countertop back in tip-top shape. Whether I'm re-grouting or replacing damaged tiles, I pay careful attention to detail to ensure your tile repair is done properly for long-term beauty and durability. Have questions? Call or e-mail me to learn more.
Tile Flooring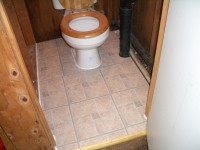 From ceramic and porcelain tile to vinyl and linoleum tile, RS Handyman is the tile contractor to call for complete tile flooring installation. With over 20 years of experience as Sacramento's handyman service, I have the expertise and knowledge you can count on for quality tile flooring installation and durability.
Whether you're looking to upgrade a dated linoleum floor with new ceramic tile or you need a no-nonsense vinyl floor for your kitchen or laundry room, RS Handyman is here to help. I'll start by removing the old tile floor and ensuring that the subflooring is in good condition. I then carefully install, grout, and seal your tile flooring, using meticulous attention to detail to make certain the tiles are correctly placed, leveled, and set. From herringbone patterns to checkerboards and more complex designs, I'm the tile installer you can count on to provide beautiful tile flooring installation for any room of your home.
Tile Countertops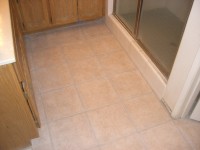 Tile countertops can be an attractive, cost-effective solution for kitchens, bathrooms, and even laundry rooms. RS Handyman provides precision tile countertop and backsplash installation using both ceramic and porcelain tile. With myriad options available in terms of color, style, and design, the sky's the limit for your beautiful new countertops. Your tile contractor in Sacramento, I have decades of experience in countertop installation, and I'm well-versed in the challenges of this particular tile install. I'm here to ensure you get great results and a tile counter top that can stand up to years of use. For more information call or e-mail today!