Keeping your gutters in good condition can help you avoid other costly home repairs down the line. That's because your gutters are designed to protect your house from the rain, channeling it away from the roof and foundation. Don't let damaged or clogged gutters create other major home maintenance and repair issues–call the gutter contractors at RS Handyman. I'm available for gutter repair and gutter cleaning service to help you keep your gutters in tip-top shape. I'm your one-stop shop in Sacramento for complete gutter service, and I'm ready to use my 20+ years of experience to efficiently and effectively provide you with the best in gutter repair and cleaning. I'm here to help keep your home in peak condition, so contact me by phone or e-mail today.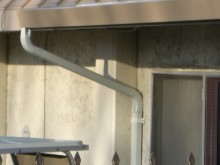 Your gutters help protect your home from the damaging effects of rainwater–without them, the rain would simply pour right of the edges of your roof! But when your gutters aren't in great repair, they can't adequately protect your home. The constant dripping, splashing, and erosion can create serious problems for your house, including:
Wood rot
Foundation erosion and structural problems
Wet basements
Mold growth inside and out 
Exterior staining
And other major issues!
Don't let damaged gutters mean bad news and damage for your home. RS Handyman brings you complete gutter repair and gutter cleaning services to help you keep your gutters in top working order. I'm ready to help safeguard your home from the potentially dangerous effects of rainwater!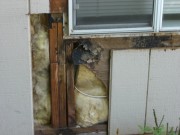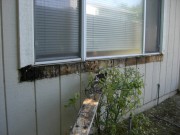 BeforeAfter
Gutter Repair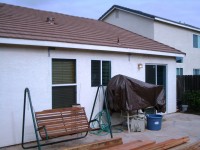 Before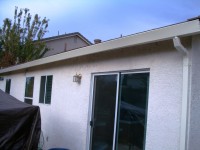 After
 Whether your gutters are dangling from the roof or are no longer attached to their downspouts, I can help. Our gutter contractors provide a full range of gutter repair services to ensure your existing gutters are up to the task of protecting your home. RS Handyman offers gutter repair for just about any type of gutter. From metal gutters to PVC gutters, I'm ready to help with section replacement and repairs. I'm your gutter contractor for skilled, professional craftsmanship, ensuring your gutters are completely repaired and properly secured to your roof without damaging your shingles. And I also offer installation and repair on gutter protection systems designed to keep gunk out of your gutters, eliminating the need for frequent, messy gutter cleaning. When you need help with your gutters in Sacramento, RS Handyman has you covered.
Gutter Cleaning
Save yourself the time, hassle, and mess of cleaning your gutters this year. RS Handyman offers complete gutter cleaning services for your convenience. I'm here to be your full-service gutter contractor: from repairs to cleaning, I'm ready to help!
The build-up of leaves and twigs in your gutters can keep them from working properly–when they're clogged the water has nowhere to go. But with professional gutter cleaning services from RS Handyman, I can eliminate that gunk, getting your gutters clean and free-flowing again ASAP. I'll remove any accumulated debris, wash the gutters completely clean, and check the downspouts for blockages as well. When I'm done, water will be able to flow easily through your gutters and safely away from your home. So sit back and relax while your gutter expert takes care of your gutter cleaning needs!
And don't forget to ask about gutter protection systems. These gutter covers can help eliminate the need for gutter cleanings by keeping the leaves and branches out in the first place.