To get the best results for your remodeling project, you're going to need an expert drywall contractor. Whether you're in the midst of a complete kitchen remodel or you need drywall repair before you repaint the living room, RS Handyman is the professional for the job. I am well-versed in all aspects of drywall installation, repair, and paint preparation, and I can help you get the outcome you want for your home renovation project. An expert drywall contractor in Sacramento, I'm your answer for the best in drywall services and beautiful results.
Drywall Installation

Before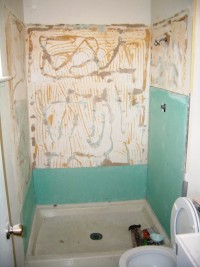 After
Hanging drywall isn't a job for amateurs. From careful measuring to handling the heavy and awkwardly large pieces of wallboard, it takes a lot of skill to properly install your drywall. At RS Handyman, I have over 20 years of experience, and you can rely on me for a job well done. I'm available to hang drywall in just about any room of your home, and unlike some drywall contractors, I even provide installation for specialized wallboard products like greenboard and cement backerboard.
And remember, there's so much more to drywall installation than just hanging the wallboard itself. Installing drywall also requires taping, mudding, and sanding. I use meticulous attention to detail and the expertise gained over years in the field to carefully tape and mud all joints and nail holes. Finishing with a precision sanding job, I'll leave your drywall smooth, beautiful, and properly installed. RS Handyman is your one-stop shop for superior drywall installation and results. I'm the drywall company you can count on to do the entire job completely and correctly from start to finish!
Drywall Painting
New drywall must be completely primed before painting to ensure you get smooth, beautiful results. That's because the drywall's paper surface and the drywall mud absorb paint at different rates, creating an uneven appearance in the paint. But with complete drywall priming, you can be confident that your new walls will look their best from top to bottom. As your drywall contractor, RS Handyman offers complete drywall priming services for your convenience. Not only do I hang, tape, and mud your drywall, I can also prime it as well. I'm the drywall company you can count on for thorough priming, without cutting corners, to help ensure that final top coat of paint will turn out great. I put my decades of experience to work for you, helping you get the results you deserve at a fair price!
Drywall Texturing
Create an elegant, one-of-a-kind look with drywall texturing. A great way to give your home the sophisticated look of old-world plaster, hide drywall bumps and dips, and just make your walls and ceilings look great, drywall texturing can take your home from basic to exquisite. At RS Handyman, I offer complete drywall texturing services to help you get the professional finish you deserve for your walls and ceiling. I can help you select the ideal texture for your style, home, and decor and the expertly apply the texturing finish. For great results and great service, you can't go wrong with drywall texturing from RS Handyman.
Drywall Repair
Whether your rambunctious kids had a bit of an accident involving the drywall or you just want to make sure that years of nail holes are completely erased from the wall, RS Handyman is your answer for drywall repair projects large and small. I'm your drywall contractor in Sacramento with the skills and hands-on knowledge to handle all types of wall and even ceiling drywall repairs, taking damaged walls to smooth and sturdy again ASAP. Don't settle for bumpy patches or obvious repairs: RS Handyman has what it takes to provide gorgeous drywall repairs to get your walls looking truly great. For additional information, feel free to call or e-mail today.